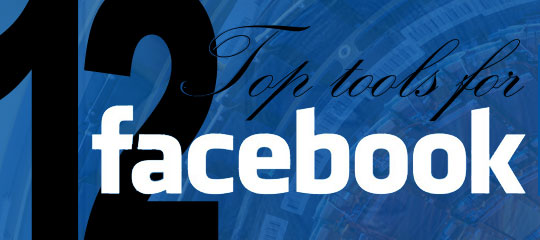 More businesses are turning to Facebook as a cost effective means to connect with and build solid relationships with customers. Subsequently, thousands of tools for Facebook have poured onto the market to help businesses effectively manage and increase ROI from Facebook.
Narrowing down the options into a manageable list to consider for your business can be a challenge in itself. That's why I've listed the 12 top tools for Facebook worth checking out below.
Top 12 Tools For Facebook
Klout is considered the standard for influence within the social media industry. It provides users with a score indicating how influential they are within Facebook comparative to others. Use this as a guide to how effective your Facebook page is, while also monitoring influential competitors to determine how you can improve your own page.
TwentyFeet
TwentyFeet provides you with an overview of your entire online presence from a range of social sites including Facebook. Monitor activity across twitter, Facebook, YouTube, MySpace, bit.ly and Google Analytics. With this information, you'll be able to determine which of your activities are most valuable.
This is a popular social management platform allowing businesses to manage multiple accounts from one interface. All engagements are displayed in streams within one dashboard so you can quickly go from one engagement type to another. For its paid plans starting from $9.99, you'll be able to access message scheduling and Facebook and Google Analytics.
Tweetdeck is another popular social management platform. Its layout is identical to that of Hootsuite's and performs much of the same functions. You can schedule and post updates across multiple platforms simultaneously, respond to engagements, monitor keywords in streams and more.
Conversocial enables businesses to provide efficient customer service in Facebook through prioritizing social media customer service messages. Simply set up keywords and when a message is received containing this keywords, it is placed in a special priority message inbox for your team members to quickly respond to.
SocialMotus is an all-in-one social management platform for those who prefer a less cluttered interface than Hootsuite and Tweetdeck.  You'll be able to manage & build your community in one simple interface. From $9.99, users will also be able to access priority messages for efficient customer service and support and an advanced leads discovery tool.
Facebook Insights is a free tool for Facebook page admins. It gives you an overview of how well you're Facebook page is performing so you can quickly track its growth and impact. Regularly visit this dashboard to understand which of your posts are most effective and to gain greater insights into your audience behaviors and demographics.
This simple social analytics tool for Facebook helps you monitor and track mentions of your company, brand, product/service and any other topic of interest to you.  The best part is SocialMention gathers data from a range of social sources so you have the most accurate, real-time information in front of you.
Similar to SocialMention, this allows you to monitor mentions of your company and other keywords. The difference is that the results are automatically sent to your email inbox so you can quickly browse through them to find relevant results.
Buffer helps users improve Facebook engagement for their posts. Simply add your post to Buffer and it will automatically post it at optimal times throughout the day. There is also a dedicated browser extension for Firefox, Safari or Chrome, so you can post right from the webpage you are viewing the content on.
Pagelever
This offers more insights into your Facebook page than the official Facebook analytics page. It provides you with detailed fan profiling of your page including the age, gender, and other demographics of your fans. Unfortunately, this isn't a free tool and is more suited to those investing more heavily into Facebook, rather than light users.
Brand Monitor
Brand Monitor helps you track, analyze and respond to online conversations from one interface across numerous social media sites. With this tool you can discover where conversations relevant to your business are happening so you can determine where to best spend your time.
That's it from me for now. I hope you've found this helpful. If you have anymore top tools for Facebook you would like to recommend, please just let me know in the comments below. ZVQMEMG39NQB