Here's a little something you don't get to see every day!
Social Media Revolver is presenting 15 of the craziest, most controversial vintage news paper advertisements ever published. Some of these ads are so left field and unreal that you'd think they might have been mistakes. Believe me, they are not mistakes, but samples of some wacky (or very clever) advertising from their era.
These days in most countries you couldn't advertise guns, alcohol, cigarettes, let alone cocaine! Bearing in mind the original recipe for Coca Cola actually did contain 9 milligrams of cocaine! [*]
OK, let's get started with everyone's favourite character, Santa Claus.
1. A Gift Of Pleasure
Good Old Santa here acts as a poster boy for the third biggest cigarette brand in the world, Lucky Strike. Have you been good? OK, here's a cigarette for ya!
2. Ronald Reagan's Christmas Present
Here is another famous character advertising cigarettes. Ronald Reagan, the 40th president of the United States apparently sends Chesterfield to all his friends every Christmas. No unpleasant after-taste.
3. Purpose Of The Wife Revealed
Kenwood is advertising a multipurpose kitchen appliance that does everything but cooks. That's where wives come in according to this ad.
4. Did You Test Your Coffee Today?
Here's another thing that wives are useful for. Coffee testing and spanking.
5. Hey, Why Don't You Buy Yourself A Gun For Christmas?
What a great idea! Combine that with too much eggnog and annoying relatives, and you'll have a hell of a party!
6. Accidental Discharge Impossible
Here's another clever idea! Mix guns with kids. Did anyone hear the story about the 2 year old who shot her mummy at the supermarket? Absolutely safe!
7. For A Better Start In Life
Here's another great product that is good for kids! It's never too soon to start drinking Coca Cola. You can't go wrong with 9 and a half tea spoons of sugar!
8.  The Youngest Customers In The Business
Here's "the other" big beverage company aiming at the infant end of their target market. Nothing does it like 7up…
9. Every Woman Wants a Vacuum Cleaner For Christmas! No?
Hoover thinks your wife would be happier on Christmas morning if she received a vacuum. Better ask her first, though.
10. Blow Some Cigarette Smoke At A Woman's Face And See What Happens!
Tipalet thinks she'll follow you home. We think she'll kick you in the nuts.
11. See Your Doctor If You're Not Sure
If your doctor is smoking Camels, perhaps you should do the same?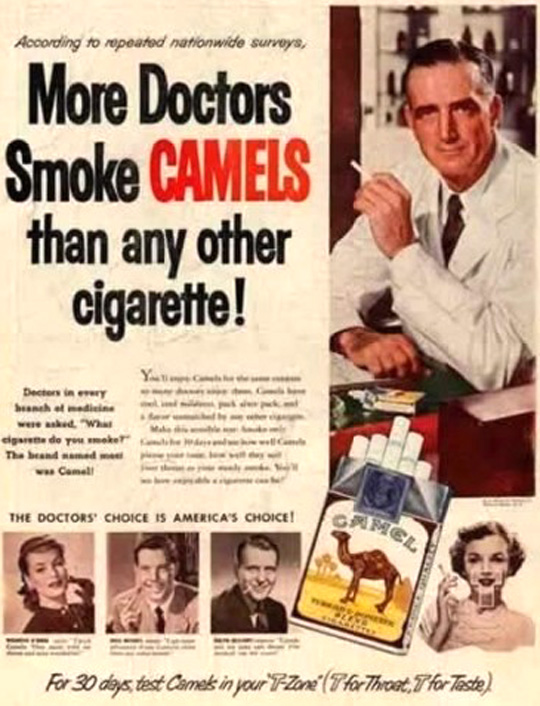 12. Mother And Baby Waisted Together
There's nothing like a case of beer that unites babies with their mothers. So, is this ad claiming that the baby gets the benefits of beer through mother's milk? Please explain.
13. Honey, You Are Thriving On Cooking And Cleaning
If beer doesn't do it, PEP will!
14. Afraid Of The Dentist? Get Some Cocaine!
If Coca Cola had it, so why not your tooth paste or mouth wash? I bet this little miracle product would get rid of all your other aches as well. Paranoia and dwarves might come in exchange, but who cares!
15. Is It Legal To Kill A Woman?
OK, What Is Going On Here? We have no idea what this ad is about but it might have something to do with posting letters,.. or ties.
If you liked these crazy vintage ads, please share them using the social buttons at the top. Infographic of these vintage advertisements can be found here.
If you have some of your own that you would like to share, please feel free to post a link in the comments.
[*] When launched, Coca-Cola's two key ingredients were cocaine and caffeine. The cocaine was derived from the coca leaf and the caffeine from kola nut. Coca-Cola contained an estimated nine milligrams of cocaine per glass. In 1903, it was removed. Source: Wikipedia.
[**] Please note that the ideas and claims presented in these vintage advertisements are not in any way endorsed by the author.