Facebook has recently released a new form of participation on Facebook. Additionally to the original Facebook Pages (Fan Pages, or Like Pages as they should be called now) and Facebook Groups you can now create Facebook Community Pages. The purpose of these Community Pages is that by creating one you can generate support for your favorite cause, hobby, pet, hockey league or just about any topic that you are passionate about.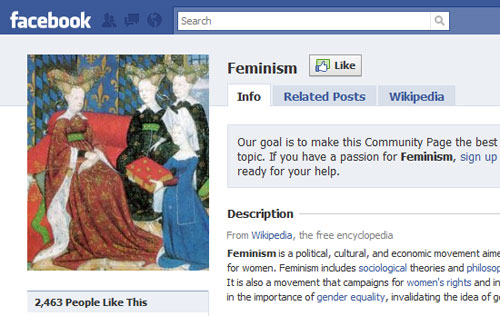 If your Community Page becomes popular, "it will be adopted and maintained by the Facebook community". I wonder what that last sentence really means. Does it mean that Facebook them selves will support these pages? If it does then their goal is clear. Facebook is creating an alternative to Wikipedia! This would a very clever strategy to spread the Facebook Universe even deeper to the Internet. Most of the community pages already seem to have copied their essence straight from Wikipedia and they even have special Wikipedia -tabs (see image above). I think Wikipedia is not going to be very happy about this as this is creating a lot of duplicate information on the web.
Active Facebook users have already created all sorts of Community Pages. There are pages for Solar Power, Feminism (already 2463 fans!), Free Speech and even Satanism and Terrorism! The last one is a bit awkward since at the top of the page in the Community Pages official intro box (by Facebook) it reads "If you have a passion for Terrorism, sign up and we'll let you know when we're ready for your help." Hmm? Ok, this would work with most topics but in this case it is a bit off the chart.
If you want to create yourself a nice fresh Facebook Community Page today just go here: http://www.facebook.com/pages/create.php, give your page a name and click the Create Community Page -button. Happy authoring!
If you enjoyed this post, please subscribe to the RSS Feed, leave a Reply or use the Bookmark widget below.