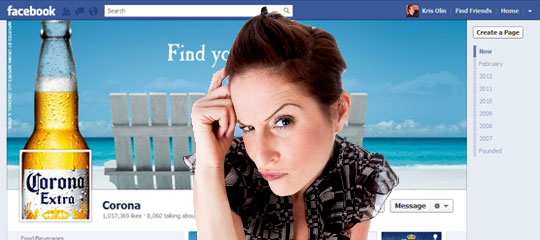 If you woke up this morning confused and scratching your head when you found out that someone had changed your Facebook Page, you are not alone. You are just one of the 38 million Facebook Page owners out there who just learned that their Facebook Page had been converted to the new Timeline format overnight.
Facebook Timeline is actually only one of the new features on the updated Pages, but it seems to be everybody's favourite term to call the new Facebook Business Page format.
Confused? Don't worry, this article will explain all you need to know how to make the best of your updated Facebook Page.
There are several features that are either completely new or upgraded from the old format. I will guide you through the most important ones.
Facebook Timeline
The biggest change concerning the Facebook Business Pages, or brand pages as they are also called is the new Timeline format. Earlier this year Facebook started using the controversial Timeline on personal profiles, and now it's here for the business pages as well.
Timeline is basically a chronological representation of all the things that have happened during the lifetime of a Facebook Page. It is visualised on a two column Wall. You can quickly navigate through the Timeline by using the Timeline indicator located in the top right hand corner.
The new Timeline itself has several cool features such as cover photos, highlighted posts and custom tabs.
Facebook Brand Page Cover Photo
Additionally to the Timeline format the new Facebook Cover Photo feature is the most visual change here. While nobody was watching Facebook upgraded their Groups earlier this year, and the most prominent new feature there as well was the new cover photo. For more information on that topic read my article How To Customize Your Facebook Group in Three Easy Steps.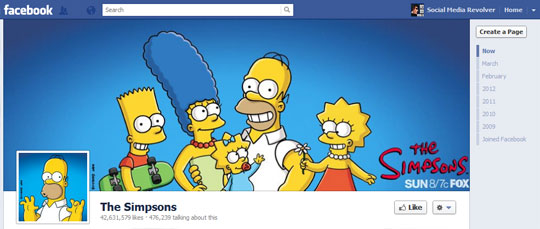 The Facebook Group banner was a successful update so it is now being introduced to Facebook Pages as well. The custom banner area is 315 pixels high and a whopping 851 pixels wide! Where did that extra 1 pixel come from, I have no idea? Maybe they should just have gone with 850, but who knows what goes on in the brilliant minds of the Facebook programmers.
Facebook Page Cover Image: 851 x 315 pixels
Anyway, this new banner area is nice and big and gives you plenty of space to create a professional looking Facebook Page for your business or brand. But don't get carried away with this! There are some strict rules that you must obey.
Facebook Cover Image Rules
The large area of the new Facebook Cover Photo gives you fantastic options to really jazz up you Facebook Page, but you must take a notice of Facebook's terms of service.
The basic approach is that this space is not meant for promotions, coupons or advertising your stuff. Your cover photo must not infringe any copyrights and cannot be primarily text.
Here are the official rules for using cover images on Facebook Pages:
Use a unique image that represents your Page. This might be a photo of a popular menu item, album artwork or a picture of people using your product.
Cover image may not contain price or purchase information, such as '40% off' or 'Download it at our website'
Cover image may not contain contact information, web address, email or mailing addresses
Cover image may not contain references to Facebook user interface elements, such as Like or Share, or any other Facebook site features
Cover image may not contain calls to action, such as 'Get it now' or 'Tell your friends' (or 'Like this page')
Covers must not be false, deceptive or misleading, and must not infringe on third parties' intellectual property
You may not encourage or incentivize people to upload your cover image to their personal timelines
Cover image must be at least 399 pixels wide
Ok, a few rules there to remember when you design your new page banner! Follow these and you should be just fine. If you don't, you will risk losing your Facebook Page without warning. See related post: Warning! This Is How You Lose Your Facebook Page.
[UPDATE 23.5.2013]
According to updated rules for the Facebook banners, or covers you are now allowed to include URL's and calls to action such as "Like our Page". As a general rule, Facebook covers can't be deceptive, misleading or infringe other people's or businesses' trademarks or copyrights.
Allowing URL's and other commercial text on your cover helps you make the banner work for you better, but remember that your image can have only up to 20% of text written on it. Unfortunately, this space is used up faster than you can say TOS Infringement! To help you manage this area better, Paavo Schmidt has come up with a clever Facebook Cover Compliance Tool.

With the help of this intelligent tool you can see where you should put your text content and how much space it occupies. If you use more than 5 rectangles, you're using too much!
If you are designing your cover image on Photoshop or similar software download this image and set it up on your top layer at 70% opacity for easy design guide.
Download
Facebook Cover Image Before / After
Below you can see the change from the old Facebook Page layout to the new Timeline format:
Makes a big difference, doesn't it? As you can see the new format is much more powerful to businesses, products and brands than the old layout.
This 101 Quotes From Alice In Wonderland Facebook Page used to have a custom landing tab encouraging new visitors to 'Like' them. That of course is now history and is not tolerated by Facebook any more, or at least not in the cover image. The old default landing page had been converted into a Tab just below the cover photo. You can still see it represented by the <-> icon. That icon needs to be customized, so read on as I will talk about the new Tabs feature a bit later on.
Facebook Page Cover Image Samples
Here are some nice samples how companies, brands and artists are using their new Facebook cover images: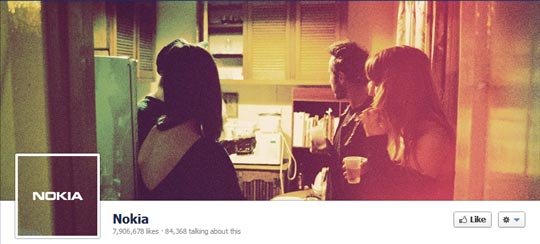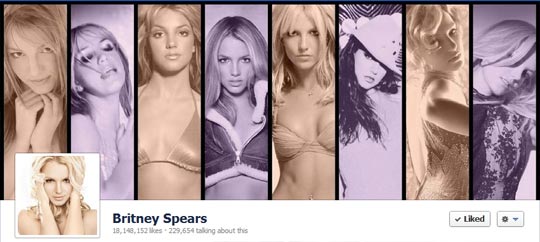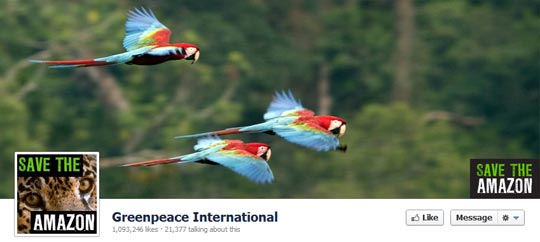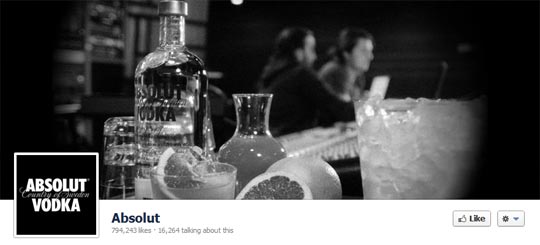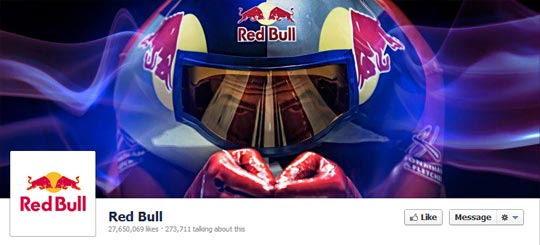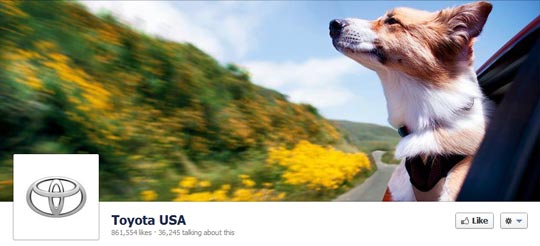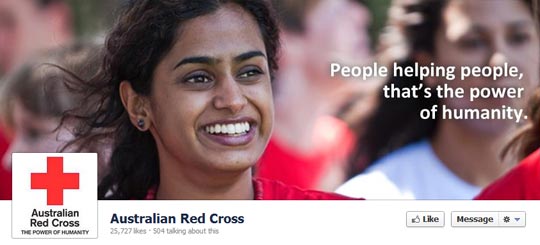 See more cool Facebook Timeline banners here: http://socialmediarevolver.com/29-cool-facebook-timeline-banners/
Landing Pages – No More
In the old format you were able to choose which page your viewers landed on when they came to your Facebook Page. This was a very handy feature and enabled companies to use some clever designs and advertising tricks to lure more fans.
Here is the old landing page from Angry Birds which is (as you'd probably know) a blockbuster game from the Finnish game maker Rovio: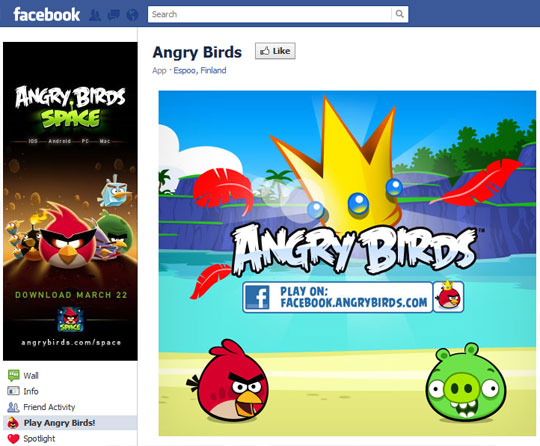 …and here is their new Timeline based Facebook Page: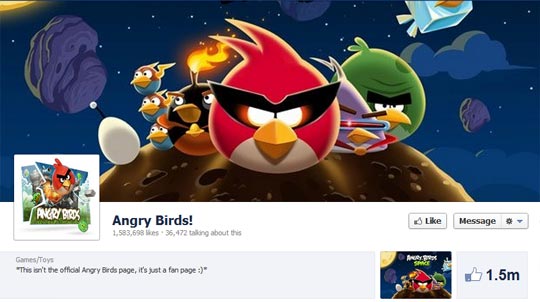 Pretty funky, eh? Looks like the Rovio boys have not yet done any custom tabs, but I'm sure they will cook up some awesome features there soon.
The custom landing page feature will be gone (and missed dearly), and from now on everybody will arrive on the Wall. Sounds boring doesn't it? Well, it could be, but fortunately the Facebook product design department has come up with some clever ways to make your Wall more interesting.
More Prominent Wall Posts
Let's face it, the old Facebook Wall was a boring place. Nothing put a monotonous feed of text and images rolling down the line.
The upgraded Wall is much better as it is in easy to read, two column layout and your posts are now larger as well. You can also manipulate your posts with highlighted and pinned -features.
Highlighted Wall Posts
The default area of a normal Wall post is 410 pixels but you can emphasize it by highlighting it. (clicking the star icon in the top right hand corner)
Highlighting a post makes it fill the entire width of your Wall. Now you have all those glorious 851 pixels to play with, and this makes a big impact on any post! Let me show you.
Here is my new Timeline Wall with a cool picture quote from my favourite guitar player, Keef:
You can't really see the whole story on a regular post, but wait … click!
Here is the same post after highlighting it:
As you can see you can now read the entire quote properly. That sure makes a big difference doesn't it? Making that Keef post highlighted unfortunately cut the bottom portion off from the image, but if you plan your posts more carefully than me that shouldn't be a problem.
Facebook Timeline Image Sizes Infographic
Here is a cool Infographic from Jon Loomer where you can see all the different image locations and their respective sizes. Feel free to share it on Pinterest if you have an account there.(Just roll-over the image and click the Pin It -button top right.)
Ok, there's your critical measurements for the Facebook Page elements. Now, if you are wondering what is the official size for the Facebook Group Banner, it is 801 x 250 pixels like this one I just created for my Holden Commodore Group:

Pinned Wall Posts
If you have a special promotion happening you can now extend its life on the Wall by 'pinning' it.
As you know, Facebook Wall is a dynamic digital canvas where your messages stay only for a little while before disappearing to the mystical land of 'forgotten posts'. That is 'below the fold' in geek speek.
Now you can prolong this by pinning some of your favourite posts to the top of the Timeline. Just click on the pen icon at the top right hand corner of your post and choose 'Pin to Top'. Your post will now stay at the top of the page for a week. This should be plenty to run a quick promotion or ad campaign.
Using this same pop-up menu you can also delete a post or simply hide it from view.
Custom Facebook Page Tabs
As I mentioned earlier the old tabs and some of their functions are now gone and instead we have new ones just below the cover picture.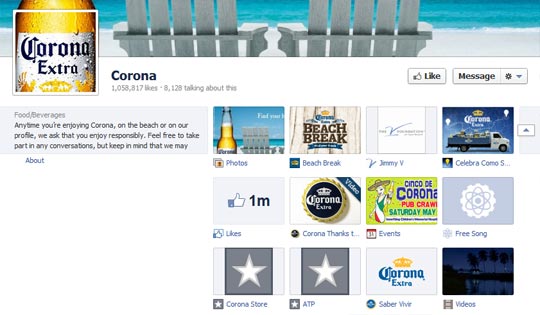 Facebook offers you currently 16 custom pages, or Tabs to play with. Only the first row is visible unless you click the arrow on the right. The Tab for your photos is always the first one there. Tab icons can, and should be customized to represent the Tab content. That is not an easy task as the area is only 110 x 75 pixels.
The new Facebook Tabs feature offers you as a business owner or brand manager lots of opportunities to advertise and promote your products and services. You can use Tabs to get new fans (Likes), collect subscriptions to your newsletter, feature videos, play games, keep an online shop, run advertising campaigns and so on. The only thing you can't do any more is to make them into a default landing page for your Facebook Page.
For instance, Mexican brewing company Cerveceria Modelo here is using their Corona Facebook Page tabs to run competitions, advertise events, raise funds for cancer research and download free music (that Jesse Harris song wasn't that bad actually).
Each of your Tabs have a unique URL which makes it easy to use them in your online or offline marketing campaigns.
There are several more new groovy features such Milestones and Direct Messages to the new Facebook Timeline'd Pages, but if you learn to use the ones above for starters you should be just fine.
Questions?
If you have any questions or comments related to the new Facebook Timeline update, please feel free to use the comment box below.
[Main image: photostock, Infographic: John Loomer]