The latest trend in online marketing is to create a Facebook Page for your business. Most of the big companies such as Disney, Starbucks, Nike, Microsoft and the like have had their own Facebook Pages since they were first offered in 2008.
Facebook Pages are fairly simple to set-up but unfortunately that is not enough anymore. To make a Facebook Page work for your business you will need to customize it and you will need a keen audience to make it active.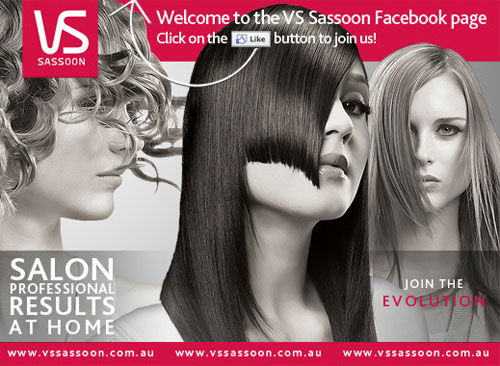 Having an audience to your Facebook Page  is called having 'Fans' or actually 'Likes' as Facebook changed the term last year; people are still talking about "How many Fans does your Facebook Page have?"
And that is the main issue here. How many fans does your Facebook Page have and how do you get more?
If you would like to get 10.000 Facebook Fans in 90 days read on as the following interview reveals how it can be done.
The In-Point is an online media/digital agency based in Sydney Australia specialising in the beauty/hair care sector and makes strategy, builds client sites including content, and distributes advertising for several high profile clients amongst them hair care electrical icon VS (Vidal) Sassoon.  Apart from building a site for the brand that is in the top 20 Lifestyle/Beauty sites in the region, The In-Point plans and implements social media marketing campaigns for its clients.
In this interview we are talking to managing partners Gabrielle McCarthy and Jeremy Havard from In-Point about how they built a strong social media presence for its client on Facebook, at time of writing being 37,000+ and going viral with over 1000 join up's each week.
Why did you choose to use only Social Media in this campaign?
This was more of an ongoing strategy supporting a wider online aim than a single campaign in order to support the VS Sassoon brand longer term and provide greater channel coverage online. The web site for the brand was gaining great support and provided a perfect information resource for people wanting to find out about the brand and its products but the brands connection on a customer service level was the weak link and we wanted to establish the brand with a younger demographic where the brand was not as well known.
What Social Media components did you use during the campaign?
We chose the 'Big Three' with Facebook being the main channel and Twitter and You Tube as support. As it was the clients first foray into social media we aimed to stay with the most established channels with the largest 'mass media' attributes. We also saw the ability to cross promote between these three as Facebook posts for example could be automatically posted to Twitter and this was seen as an effective use of time. You Tube could be used not just to show the enormous amount of video material this client had but to cross promote the Facebook Page as well.
Did you really manage to get 10.000 Facebook fans in just 90 days? How did you do it?
Yes, we actually managed to get a bit over 10.000 fans in just three months.
As you can see from the graph below we started our campaign in the beginning of July last year and by the end of September we had reached over 10.000 Facebook Fans.
We followed very simple basic rules of which the main one we believe was effective use of a custom landing page to generate the 'Likes'. If you were not already a fan, the landing page was set as the default so that you were encouraged to join and also assumed you got no further without becoming a fan.
After that we updated the Facebook Page with interesting stuff such as regular engaging content in the form of posts, promotions, information, how to's and pictures that appealed to the demographic and were relevant without being too sales-oriented.
How much did you end up paying for a new Fan?
One of the main things about this project is the large amount of people who saw it and joined or were told by their friends, so it cost nothing. However, to put a value on a fan it ranges from $0.49 to $0.68 but with mark up it is around $1 per fan. We have noticed a steady increase in CPC and steady decrease in impressions but Facebook still out performs Google AdWords. Facebook Ads are relatively cheap in comparison to Google Adwords and provide incredible reach.
What do you do to keep your Fans happy and occupied?
We created a post calendar for our marketing team to ensure that the posts were varied and relevant. This also helped to ensure that the team were all up to date and effectively working in parallel to each other. For our target demographic, photos and videos worked very well to engage, especially if linked to a celebrity.
In an environment where engagement is a better measure of success our main realisation was that competitions and applications did not encourage engagement to the degree that a simple, well thought out post would. However, winners are great advocates and they were asked to post feedback on their prize which was always positive and plentiful. The fashion driven and 'cool" without being too cool tone with which we engaged the audience was also a key to success."
Did you do any other marketing operations outside these Social Media operations?
There were a large number of other online activities supporting the Social Media Marketing (SMM) campaign. For instance, we developed several competitions that were hosted on the VS Sassoon website and linked them to all the main three social media channels, most heavily Facebook. These consisted of a free makeover application that was too cost prohibitive to develop as a Facebook app and a number of large give away promotions.
And finally, how did the campaign go? How is it doing today?
In terms of fan numbers on Facebook this has been extraordinary! As mentioned earlier we managed to get over 10.000 Facebook Fans in just three months time. We are working on increasing fan engagement and refining our demographic targeting as although general Facebook stats show the largest user group as being 18-25 year old females, our largest group by far is the 13-17 year olds. Now you would expect this group to sign up for more but the variation is massive.
We have also seen a large following in one specific city/region. This coupled with the age group demographic indicate to us that the campaign has gone viral amongst a very specific group and although we have addressed this in our ad targeting, this group continues to grow.
Twitter and You Tube have had different results. We found Twitter to be very time consuming hence costly when you looked at it from a number of man hours we have to put in per fan. You Tube, due to good SEO and large inventory of material has been successful, but this is worldwide and in our region the uptake is lower. However, You Tube has other major benefits for the client including video hosting, ability to test video uptake as well as driving direct fans to Facebook and the website. So overall, You Tube has been the second best SMM outlet and Twitter the third.
So, the picture today is that VS Sassoon has over 37,000 fans on Facebook and they are practically running the Facebook Page themselves and telling their friends. Messages posted on the Wall get viral and very often generate more fans and comments. Posts are seen on friends' walls too, so the branding message reach is much larger than just the number of fans.
In summary the Facebook and SMM campaigns have been a great success and have doubled and even tripled numbers gained by similar campaigns run by our clients competition, or similar category marketers interested in the same consumers such as Olay, Pantene and GHD. In 12 months time we predict the VS Sassoon Facebook Page will have up to 100.000 Fans and the VS Sassoon website will have close to 1 million visits due to a major focus on great content".
Well, there you have it folks! This is how you get 10.000 Facebook Fans in 90 days! If you're interested to see how they're doing today, have a look at the VS Sassoon Facebook Page here: http://www.facebook.com/VSSassoon …and become a fan.
* If you too want to learn how get 10.000 fans to your Facebook Page in 90 days and how to use Facebook effectively in your online marketing read the Facebook Advertising Guide.