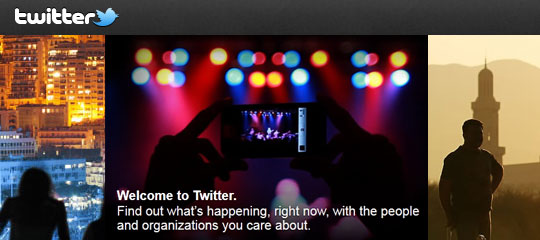 Twitter Inc. has just turned 6 last month and have currently about 500 million users worldwide. Twitter was valued at $8.3 billion in 2011 and it's the second most popular social media network after Facebook. Twitter has 900+ employees and is based in San Francisco, California with additional servers and offices in New York City.
With 500 million users you'd think that everybody would already know how to use Twitter. Well, apparently not so. Here at Social Media Revolver we get lots of questions from people and small business owners what Twitter really is, what it does, and how to use it.
This article is for those who are still wondering what this crazy Twitter thing is; or who already have a Twitter account, but haven't used it much yet.
First, we have the 'official' definition from Twitter themselves:
Find out what's happening right now, with people and organizations you care about.
Well, that's a bit vague isn't it? Let's have a look what Wikipedia has to say:
Twitter is an online social networking service and micro blogging service that enables its users to send and read text-based posts of up to 140 characters, known as 'tweets'.
Ok, that one is a bit better. In short, Twitter is a communication tool which allows you to be in touch with like minded people via Internet and Smart Phones.
People who are connected with you are called followers. Some people have millions of them, especially musicians, movie stars and celebrities,.. and president Obama.

For instance Lady Gaga has over 22 million followers! Can you imagine how powerful one message, or tweet from the Mother Monster can be?
New York Times has close to 5 million followers, so when they send out a tweet it does reach a serious volume of people!
How To Use Twitter – Infographic
Check out this wonderful Infographic from Twiends that presents most of the important Twitter features as well as some interesting facts. Learn these and you'll be bonafied! [Sorry @SnoopDogg I just had to put that in!]

Twitter User Name
This is an important piece of online real estate that you should take seriously if you are running a business.
Twitter user names are unique web addresses, and you should own yours. It doesn't matter if you don't use, or even need your Twitter account at the moment, it's still important that you own your own Twitter user name rather than someone else.
So, if you don't have a Twitter account for your business or brand, please go and register your business name today before someone else does.
[See related post: How To Change Your Twitter Username]
How To Use Twitter – Video
Here is a great (and a bit humorous) video presentation from Blinklife about Twitter and what it can be used for:
How To Use Your Twitter Account Effectively
When you first get your Twitter account it does not look like much. You will get much more out of it if you customize it a little bit.
Here is a Top 10 list how to get most out of your Twitter account; either personally or for your business:
Use a profile picture. As you saw in the Infographic you will get 10 times more followers if you have a picture of yourself than if you don't. This is fairly logical. Twitter is a network of people, and people relate to other people better if they see their faces.
Customize your Twitter background. Use this area to tell more about yourself or your business.
Fill in your Bio information. Again, you will get more followers if you tell people something about yourself.
If you have a website or blog put the URL below your Bio.
Tweet about your interest areas. At least once a day. Twice would be better.
Follow back people who follow you. You can use some free automated services for this (such as SocialOomph). Remember not to unfollow automatically as you will risk losing your account!
Retweet often. When you see an interesting tweet in your Twitter feed, or timeline go ahead and retweet it. This is good interaction between you and your followers and will get you some retweets as well.
Reply to direct messages and conversations unless they are obvious automatic messages.
Use images. Twitter teamed up with photo sharing website Photobucket last year and introduced image sharing on tweets. It has quickly become a widely popular method for sharing some of the coolest pics on the web.
BONUS TIP: Do not hard sell! If you use your Twitter account trying to get people to buy stuff you will start losing your followers quickly. This doesn't mean that you shouldn't promote your business on Twitter, but make it so that your tweets are not obvious ads. Use the 80/20 rule on this. Tweet 8 messages of good, interesting and shareable material and throw in 2 commercial tweets once in awhile.
If you follow these simple rules your Twitter account will start working for you and before you know it, you too can become a Twitter superstar!
The Power Of Retweeting
[Added 19.4.2012] Retweeting is one of the most powerful features on Twitter. When someone with lots of followers retweets your post you can end up with a huge increase in your followers as well as hits to your website or blog post.
As a matter of fact, this was exactly what happened with this post when American actress Alyssa Milano retweeted this post a few days ago. Alyssa has over 2 million followers on Twitter, so when she makes a tweet or retweet it makes a difference!
Below is the original retweet from Alyssa:
How To Use Twitter – Beginners Guide goo.gl/w7N6g /via @KrisOlin @jkcallas @heykim

— Alyssa Milano (@Alyssa_Milano) April 16, 2012
Alyssa's retweet caused 50+ other retweets from her followers and all this resulted in a huge jump in views (over 1,000 clicks/day). Thanks Alyssa! Social Media Revolver will follow you forever!
Very nice when something like that happens, eh?
Follow Us
Yes, Social Media Revolver is on Twitter as well! Follow us and stay in touch with the latest news and rumours from the exciting world of Social Media. Follow @SocialMediaRvl