The Queen is dead,.. or is she?
Lady Gaga has been the undisputed Queen of Twitter since she over took from Britney Spears one rainy August afternoon in 2010.
But now there's a new sheriff in town! Justin Bieber has just become the most followed person on Twitter. Justin has now over 33,370.732 followers where as Lady Gaga has to settle for 33,351.625 followers. Those figures were accurate at the time when I made the following Infographic just a few minutes ago.
Will the Mother Monster be able to get back her throne from the Canadian wonder boy, or is this change of guards permanent? We'll find out in the near future. One thing is certain though – by the time I have finished writing this blog post these numbers have definitely changed. We shall see…
Lady Gaga Vs Justin Bieber Infographic
This handy Infographic shows you how Lady Gaga and Justin Bieber compare on the second most popular social network in the world, Twitter. You can see how many followers each have, how many Tweets they put out, what their favourite topics are and so on.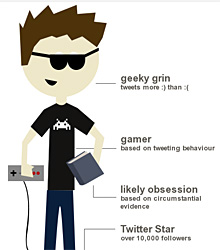 (If you want to create cool Infographics like this one just head over to visual.ly. That's me on the right by the way.)
So, there you have it! The young Canadian pop sensation from London, Ontario, Justin Bieber is now the most followed celebrity, or any person for that matter on Twitter.
The new updated Top 10 Twitter list looks like this:
Top 10 Most Followed People On Twitter
Justin Bieber
Lady Gaga
Katy Perry
Rihanna
Barack Obama
Britney Spears
Taylor Swift
YouTube (not really people, eh?)
Shakira
Kim Kardashian (hmm..?)
This is what Lady Gaga, or whoever writes her Tweets had to say about her defeat:
So proud of @justinbieber and all the Beliebers! I'm only happy to see your fans growing in size, you all deserve it! Monsters support you!

— Lady Gaga (@ladygaga) January 16, 2013
..and here's Justin's insightful reply:
and oh yeah…

— Justin Bieber (@justinbieber) January 23, 2013
I wonder if the volume of Twitter followers are an indication of actual musical talent? In this case I'd have to say no, as Lady Gaga has won 5 Grammys so far, whereas Justin sits tight at a zero.
(Anyways, these are important things to ponder about while at work, studying or what ever other boring stuff you might be doing right now.)
If you're a Lady Gaga fan or (heaven forbid) Justin Bieber fan, please feel free to share this post. If you are neither, congratulate yourself and see what the late Frank Zappa has to say about all this. > >
Oh, I almost forgot!
During the time it took me to write this piece and take my dog for a walk (about 2 hours all up) Justin Bieber gained 3,883 followers BUT (some drum roll here) Lady Gaga added 4,181 of them! It looks like the Queen of Twitter is keeping her poker face and is not ready to give up her thrown yet! Perhaps she was born this way?
By the way, put together these two global musical marvels have about the same amount of followers as there are people in the UK or France.
Now, that is a bit scary, isn't it?