Marilyn Monroe is one of the most recognizable women in the world. Even 50 years after her death in August 5 1962 Marilyn is more famous than ever. Who would have thought that Norma Jeane Mortenson from a small suburb in Los Angeles would later become the sexiest woman on the planet we all came to know and love by the name of Marilyn Monroe?
Imperfection is beauty, madness is genius and it's better to be absolutely ridiculous than absolutely boring. -Marilyn Monroe
Marilyn was a huge success in Hollywood 1948-1958 and she's still a huge success today. Marilyn Monroe™ as a brand has been managed very professionally by the Marilyn Monroe Estate generating $30 Million+ revenue annually. The Monroe Estate controls the sales of all kinds of branded products from sunglasses and shower curtains to T-shirts, lipstick and perfumes; and they are using all the latest marketing tools available including social media.
Marilyn lives on forever; on Social Media
Social Media has been instrumental in sustaining Marilyn's successful career for so long. The Monroe Estate is using everything but the kitchen sink from the social media spectrum. Marilyn has a presence in Facebook, Twitter, Pinterest, Spotify, YouTube, Deezer, MySpace,  iHeartRadio, Slacker, Zwooq just to name a few.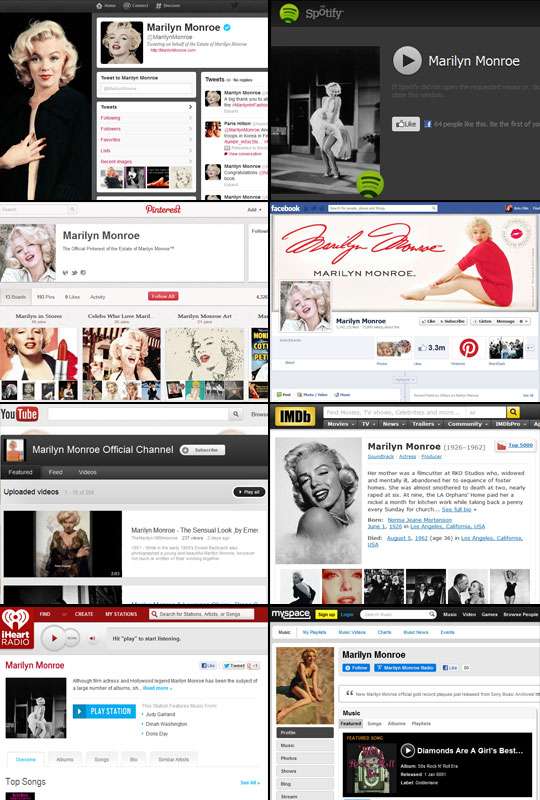 The hugely popular Marilyn Facebook Page has over 3.3 million fans. Marilyn also has close to 53,000 followers on Twitter. I wonder who actually writes all her tweets?
"Give a girl the right shoes, and she can conquer the world." – Marilyn Monroe yfrog.com/moobuuvj

— Marilyn Monroe (@MarilynMonroe) July 13, 2012
Marilyn's Pinterest account launched not too long ago has already gathered well over 4,000 followers; and as a proper Hollywood diva, she's not following anyone back! These three social media networks are the main platforms that are used prominently on the official Marilyn Monroe website, which is at position 390,486 on the most popular website list according to Alexa. This is actually quite good considering there are half a billion websites in the world.
When you search for 'marilyn monroe'  Google returns 64.4 Million hits about her. By comparison Katharine Hepburn gets a measly 5 million, James Dean 34 million and Frank Sinatra 43 million results. Elvis on the other hand is still the 'King' with close to 200 million search results.
The magic of Marilyn Monroe
If you are still wondering how Marilyn can be so famous after all these years just have a look how she does her magic on the 1953 motion picture Niagara.
http://youtu.be/HbFLkt47RxE
… oh, and did I mention she was married to an All American baseball legend, Pulitzer prize winner and she was the 'unofficial girlfriend' of a president?
Social Media Revolver misses Marilyn. Leave a comment if you do too.