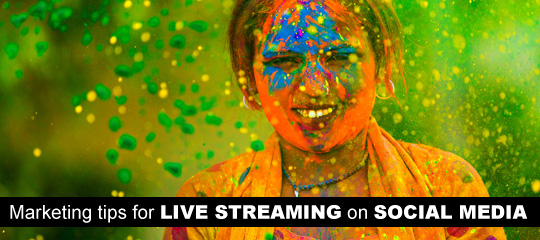 In this digital era, the mode of marketing has definitely changed. The social media live streaming expresses virtually all the facets required for making the social media a prized tool. It creates an element of communication between the consumer and the seller and a sense of urgency.
The live streaming on social media is more trustworthy than any typical brand videos. It is a lot more appealing than many other forms of the marketing.
The importance of social media live streaming cannot be overstated. The statistics of live streaming speaks volume for itself. The live streaming on social media is widely used for a variety of content and has been successful in each of them. The demography or the age group that is hard to convince for marketing are also investing on social media live streaming.
According to the reports, more than 63% in the disinterested category are watching live content and the rest are creating their own content to make it live on the social media channels.
The Influence of Live Streaming on Social Media
Live streaming on social media has been a terrific trend since few years and it continues to grow. As a result, with the augmented live streaming interest has come the increased interest of brands. For instance, Twitch being one of the greatest social media live streaming sites has 10 million daily active users and the Facebook live streaming search popularity shows an upsurge of over 330%.
To offer some great opportunity perceptions for various businesses through social media live streaming, here is an infographic sharing some of the best marketing tips for live streaming on social media. It covers a great deal of information, facts, and stats on why and how social media live streaming is one of the most important marketing aspects in the recent times.
The social media live streaming industry is expected to reach $70.05 billion by the year 2021. From entertaining or fun videos to various events promotions and breaking news, the live streaming of social media content has all.
Facebook, being the most popular social media live streaming platform, followed by YouTube and Instagram are becoming the most leading live streaming tools with a marketing share of 45%, close to 44% and 28% respectively.
The infographic throws light on the right platforms with complete statistics of users and their experience. It also highlights on how brands can take advantage of the social media live streaming videos. Every live streaming social media content should have benefits that the audience and the customers can appreciate. They must get the feeling like they are participating in an outstanding event or sharing something that is unique and enriching.
Before starting your business promotions or just sharing a fun idea to tickle the brains of your consumers, get to the depth of social media live streaming do's and dont's and achieve bigger and better.

[Image credits: the Infographic was provided by the cool people at Filmora, main image by iStockPhoto]