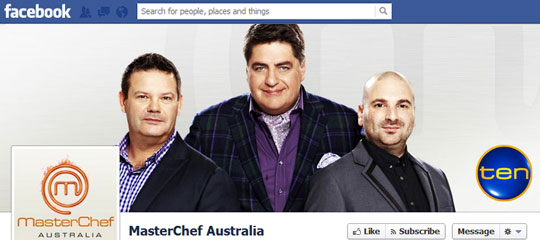 MasterChef Australia is an Australian competitive cooking reality show based on the original UK version of MasterChef. It is produced by Fremantle Media Australia and hosted by food critic, UK born Matt Preston, Top 40 chef George Calombaris and restaurateur and chef Gary Mehigan who is the owner of the famous Fenix and Maribyrnong Boathouse restaurants.
This popular reality tv-show uses Social Media Components in its marketing quite effectively. MasterChef Australia has its own Facebook Page as well as Twitter account. The show has close to 95.000 fans [1] on Facebook and over 6.000 followers on Twitter [2]. They post 3.8 tweets/day approximately and have followers from all over the world. Their website (masterchef.com.au) is also built to function like a social media website or portal with social engagement features such as polls, competitions, recipes (duh..) and games. Logie Award winning judge Matt Preston has his own Facebook Page as well with over 6.000 fans.
MasterChef is on channel TEN 7.30 Sunday-Friday.
-This was the original post from June 7 2010,.. and here's the update:
MasterChef Australia Update
11.7.2012
Masterchef Australia is now on its fourth season and the fan base on Facebook and Twitter has increased substantially since the first.
MasterChef Australia on Facebook
If you noticed two years ago MasterChef Australia Facebook Page had 'only' 95.000 fans [1]. I said 'only' as today there are close to a million fans! (961.000 to be exact) They have managed to increase their Facebook fan base ten fold in just two years. That is quite an achievement.
Actually, we can't talk about fans anymore as Facebook changed the term Fans to Likes last year. Don't ask why; people are still wondering why they did bother to do so.
The new Timeline Format MasterChef pages are now a lot more engaging place than in 2010. They feature videos, Facebook Events, Recipes, Fan Food Diary (which serves as a landing page for non-fans), and a clever new social app from GetGlue.
GetGlue is a social network for sharing with friends what you're watching, listening or reading. As you check-in and rate your favorite shows, movies or music you can unlock all sorts of rewards and cool stickers. When you enter something into this app it's called a Check In, which sounds a bit silly. Maybe the are trying to compete on the same turf as FourSquare? Anyways, you can give it a go here.
MasterChef Australia's wall posts have become hugely popular in two years time. For instance yesterday's episode where two of the contestants, Alice and Mindy had a show down in order to please the palate of the famous Italian kitchen maestro Antonio Carluccio collected 520 Likes and 471 comments! How powerful is that?
Masterchef Australia on Twitter
Twitter followers have also increased substantially for the Australian MasterChef series in the last two years. In 2010 they had 6.000 followers [2], last year 33.000, and now the figure has increased to 54.000! Some of the followers include 2010 MasterChef winner Adam Liaw and 2011 Australian Logie Award winner Chrissie Swan.
MasterChef Australia's Twitter account is used mainly for discussion about the events in the series as well driving traffic to their hugely popular website which has gained a Google Page Rank of 6. (Just in case you're wondering what the heck is Google Page Rank, see this related post here: Albert Einstein's Guide How To Research A Website For Marketing Purposes.)
What about Antonio Carluccio's recipe for stuffed squid piazzaiola @ bit.ly/S0rTTB #nomnomnom #MasterChefAU

— MasterChef Australia (@MasterChef_Aust) July 11, 2012
This episode really takes me back to Marion's immunity challenge in London when I sat in a hotel room for a week. #goodtimes #MasterChefAU

— Adam Liaw (@adamliaw) July 10, 2012
MasterChef Australia's tweets often include the #MasterChefAU Hashtag which seems to be making quite an impact on the Twittersphere according to hashtags.org.
Blast From The Past
Here's is the original image for this blog post from 2010. Oh, how young the boys look! …and check out Matt Preston's hair! OMG would be appropriate here!
Are you a MasterChef Fan?
We are huge MasterChef fans here at Social Media Revolver! If you are too, please click on some of those cool social sharing buttons below.
See related post: http://socialmediarevolver.com/how-to-get-460-000-facebook-fans-in-12-months/ where MasterChef Australia manages to pull it off.