Eventually every blogger comes to an understanding that there is not enough traffic for his or her blog. For a beginner blogger there may be no traffic at all. When the traffic level goes down it is a real pain for a blog that used to rule. While the insane amount of traffic is what we all secretly (mostly not) desire.
And surely the question comes to mind –
"Why?"
There are just three possible answers:
You do something wrong
You don't do something you could do
You don't do anything wrong,.. because you do nothing
If you intend to keep your strategy up with the answer #3 and just sit on your buttocks – there is nothing for you in this post.
If you're searching the way for improvement – let's move on!
1. Share More Than Once
One of the first things you do after posting your article is sharing it via all of your social media channels. That's the natural way to speak-out loud and attract attention. But to share-and-forget is not enough. It's not that I offer you to be annoying and piss off your followers.
But hey! Think of the following reasons:
Some of your readers might have missed what you'd shared
Someone just forgot to click-through, although intended to
You readers may be living in even opposite time zones
Think carefully of these reasons and draw up a sharing schedule like this: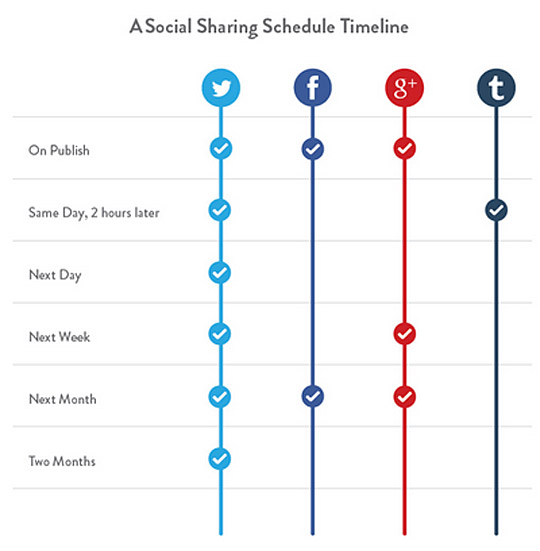 But never turn into a spammer. Draw a line and use it wise! Check out this post by Kissmetrics to see how it worked for them. See also this related post: The Secret Of Timing In Social Marketing
2. Add A Link To Your Latest Post Into Your E-mail Signature
Just think of the number of people you e-mail every day. This simple action will be a reminder that you have a blog. It may be intriguing enough to click the link. Just don't forget to update it from time to time. This may not only be a link to your latest post, but to any post of yours. And since it is not in the letter body, you don't ask for a click-through in plain.
[Note from Editor: If you use Gmail or Hotmail, you could use a handy tool called WiseStamp for setting up your Email footers professionally]
3. Use "Sound Bites"
An awesome way to make people share your post is to put its main idea into a single phrase or sentence and to emphasize it. It is now known as "Sound Bites" or "Tweetable Quotes". Check out how Michael Hyatt ends his articles with eye-catchy quotes:
Such neat pieces of content can easily be created in WordPress with such tools as a free ClickToTweet plugin or a premium TweetDis. A powerful way to use this tip is to use quotes by famous, admitted persons in your field or by celebrities. They will be eagerly Tweeted by your readers.
4. Visualize Your Content
A plain text is not the thing readers are likely to share. Visualizing you content must be one of the top priorities for bringing traffic to your blog. Pictures, photos, Infographics is what catches the eye in first place, and is likely to stay in mind for a long time.
Why visual content works better? Jeff Bullas gave a visual answer in one of his posts:
Just check out the stats and trends in HubSpot post. You can see the importance of visual content in real numbers.
Content with picture, photo or video has much more chances to be shared with others.
5. Practical Value
The content of your post must be useful for your readers.
As soon as they see that they will benefit from it, they will be eager to share it. What worked for them will work for others as well. At this case they will be the "wise uncle" to share the useful info with a "nephew".
Remember that people are more likely to share things, which help them express themselves to others. Most of the people post in social media to show who they are, and share to express what they support.
Handy tutorials, instructions, way-to-success success, tips and checklists – information of this kind will be contagious, if served well. Combine this item with the other tips on the list and it will rock!
6. Make A Research Of What Tends To Be Shared
Before you even start writing a post, ask yourself a simple question:
Will this be worth sharing?
.
You can use a powerful tool by Ahrefs to see how many times relevant posts have been shared via different social networks.
Thousands of Tweets and Facebook shares mean a lot. Be sure to play with words your query to find the similar topics.
7. Use Call To Action Off The Cuff!
If you want more traffic –
Ask for it!
Today in a street a 4-year old kid strode up to me and confidently asked for 2 bucks. When I asked "What for?", he said he wanted an ice-cream. He wanted an ice-cream, he did not have money so he asked. So why not to ask your readers to share your content?
What if your call-to-action was the only missing thing for them to share?
Look at this Twitter stats made by Dan Zarrella when he was working with HubSpot. It shows the increase of Retweets, which came from call-to-action.
Be dare enough to ask. In fact,..
Isn't your content worth sharing?
These 7 tips are simple as they can be, but they work like hell to bring you the desired traffic.
Please share this post with your friends and use comments to answer the following question: "What will you do with tons of traffic on your site"?
[Main image: Hynynen by Kris Olin © 2013]