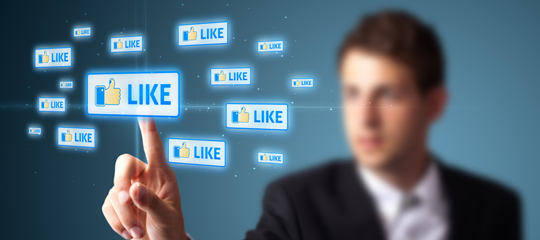 If Shakespeare had been an Internet marketer instead of a playwright, he would have made a fantastic conversion optimization specialist:
Life's but a walking shadow, a poor player, That struts and frets his hour upon the stage, And then is heard no more. It is a tale Told by an idiot, full of sound and fury, Signifying nothing. (Macbeth, Act 5)
Not that social media professionals are idiots (far from it) — but doesn't this describe a lot of social media marketing programs? Here today, gone tomorrow? Lots of talking, tweeting, linking, liking, blogging, sharing … but precious little targeting, qualifying, converting, lead generating and selling? Shakespeare would never have approved.
Getting Serious About Social Media Engagement
One of the most important things to do, and one of the hardest things to do, is put a profitable purpose into your social media efforts. A number of daunting obstacles get in the way:
A mindset that is comfortable with conversation but suspicious of selling
The difficulty of crafting a coherent social strategy
A fuzzy understanding of social media metrics
Fear of coming off too strong, of alienating the firm's social media community
Well, what follows are ideas, tips and examples to help you get past these issues; methods to help you get results that justify the expansion of your social media program and set the stage for long term success.
Divide and Target
A common social marketing problem is sharing the same info with the same basic audience across every platform. Well, just as Caesar marched successfully with a divide and conquer strategy, you can march toward profitable engagement by dividing and targeting; in other words, creating distinctive content on each platform calculated to attract a particular segment of your community.
Example:
Use Twitter to broadcast daily or weekly specials to existing customers who may have no interest in conversation, but definite interest in saving money. The profitable purpose: incremental sales, loyalty building.
Use your Facebook page in conjunction with a Facebook ad campaign to attract new customers with enticing offers. The profitable purpose: new customer acquisition, lead generation.
Use your Google+ page to discuss important issues with industry peers. The profitable purpose: referral generation, knowledge building.
Of course, something totally different might be what suits your needs; no matter. The purpose of my example is only to present a format for articulating your tactics. Once you get a plan into written form, you'll be surprised at how much easier it is to share and refine ideas.
Structure Offers to Match Audience Interests
Having any offer connected to your social media program puts you one step ahead of the crowd, but you can do much better than that. People you engage with are looking at your content from very different perspectives. Someone who is browsing doesn't want a hard sell; someone ready to place an order doesn't want a 40-page white paper telling him what he already knows. It is extremely difficult to create a one-size-fits-all offer — which is why so many of us fall back on lame alternatives such as "contact us for more information." The winning approach is to craft offers specifically suited to the interest of each audience type.
Examples:
For browsers — White papers, free downloads with tips or industry insight
For serious shoppers — Free onsite consultations, free trial orders
For buyers — Limited-time discount coupons, extended payment terms
For customers — Extended warranties, loyalty program signups
For researchers — Free specification sheet downloads, white papers
For referrers — Referral rewards programs, lead exchange programs
If you have created a distinctive strategy for each social media platform, you can see how developing concrete offers around these audience types can put some very serious profitable purpose into your efforts.
Conversion Enhances Rather than Inhibits Conversation
The subject of concrete offers brings me back to the issue of mindset. Don't buy into the notion that selling conflicts with conversation! The opposite is true. People who like to talk to you want to work with you and help you and perhaps, do business with you. If you don't put concrete offers in front of them, you frustrate them, because you give them no easy way to act on their impulse to assist or inquire.
I don't know about you, but I run into this frustration almost every day. A company's social media page shows off a really cool product or a creative service that complements our agency's service offering, but doesn't give me an offer or a path to connect or a way to take the next step in the relationship.
If you are relying on a vague contact form embedded in a custom Facebook tab, or for interested parties to click through your Twitter page to your website and find a contact form, you are actually making their lives difficult. Every click and every pause to figure out what to do next is one less lead, one less prospect — and perhaps one less person interested in sharing conversation with you.
Concrete offers also help you from the metrics perspective. Many of the widely used social media metrics — retweets, likes, referred traffic, etc. — are nebulous. On the other hand, tracking downloads, form fills, completed orders, etc., is precise. Understanding what works and what doesn't helps you test and refine offers — making people even more happy about their social media engagement experience with you.
Profitable Purpose On Google+
Here are a couple examples of how easy (and unobtrusive) it is to put conversion elements into a Google+ About page.
Example: SEOmoz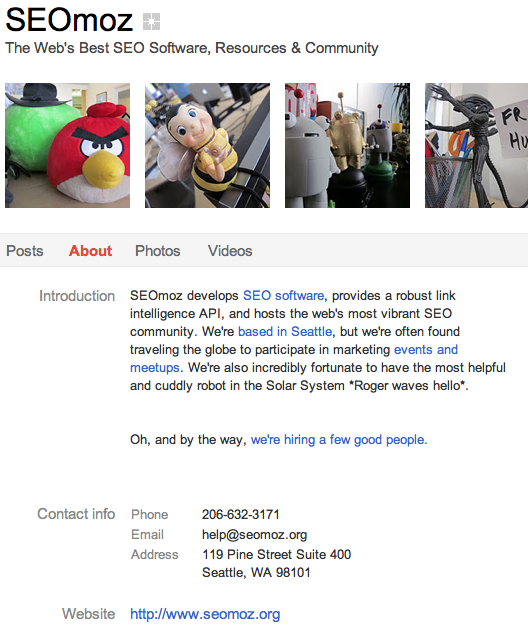 SEOmoz displays a link to its SEO software landing page, where interested parties can get a rundown on the product and order. They also have a link to their jobs page — don't forget that recruiting is another profitable purpose of social media engagement.
Example: Raven Tools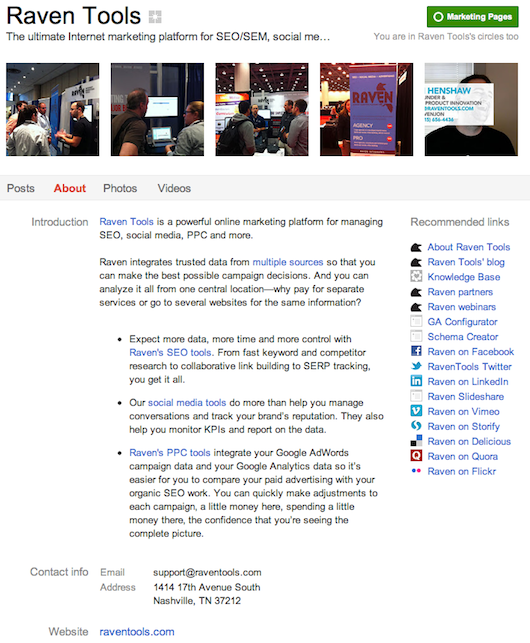 What I'd like to draw your attention to is the Recommended links: Raven has a few good conversion links here, my favorite being "Raven webinars," which takes you directly to a page where you can sign up.
Profitable Purpose On Facebook
Examples of smart conversion optimization abound on Facebook. I chose the following example because it covers so many bases.
Example: Ace Hardware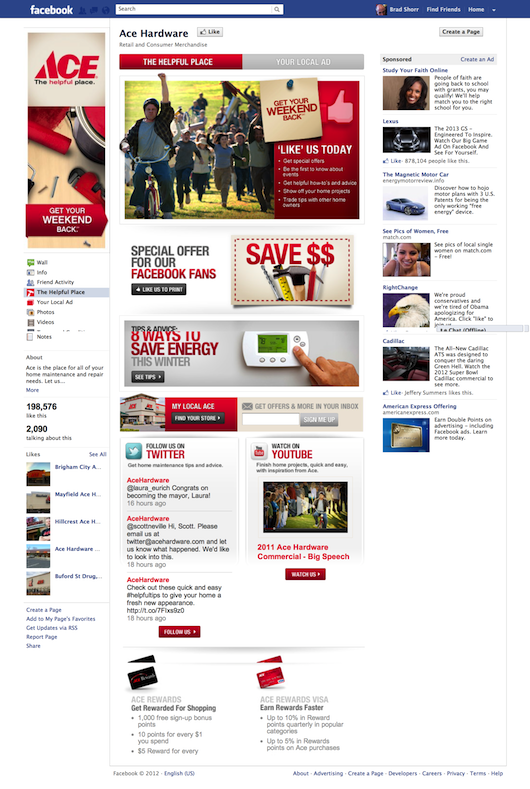 The top "Like Us Today" box has special offers for buyers, how-to's for researchers, an opportunity to show off your project, and more. Ace gives people a reason to connect no matter where they are in the buying cycle, or not in the buying cycle at all. They repeat and expand on their offers just below — excellent techniques to draw people in and peak their interest.
You'll also notice they differentiate their social media platforms: Twitter to get home maintenance tips and advice; YouTube for inspiration on home projects. Shakespeare would have been proud!
Profitable Purpose On Twitter
As long as we're talking about Ace, let's take a look at what they're doing on Twitter. First, they say true to their Twitter brand promise by tweeting a link to helpful advice, which provides truly detailed information:
But Ace sprinkles in tweets to attract a different segment, buyers, who are taken to a page where they can browse or make a purchase:
Finally, Ace tweets socially, reaching out to people who are interested in engagement:
I wrote in an earlier post here about the business value of small talk in social media. Ace is wise to include this type of tweet, not because it leads to direct conversion, but because it keeps people coming back.
Wrap Up: Know The Rules, And Then Break Them
Critical readers will observe that Ace's Twitter activity, which hits multiple audiences, runs counter to my advice to target each social platform to a specific audience segment. As in most things marketing, there are no hard and fast rules; Ace no doubt shaped and built its content through trial and error, through careful listening, through diligent measuring of results. In the end, the important thing is to do what works. However, you stand a much better chance of finding the right formula if you start with best practices, if you keep your strategic focus on conversion and profitable purpose.
What Do You Think?
How are you making your social media engagement activities profitable? Do you separate your social messages according to you target audience segments or do you use the same basic message for all?
__________
(Note: Brad's agency is one of the leading Chicago marketing firms focusing on B2B. Their clients are in highly specialized niches, such as rebuilt Allison transmissions and heat resistant gloves. These firms place a high value on ROI in all activities, including marketing.)