Social Marketing and Social Sharing are two of the hottest trends in marketing today. You share your business and personal stuff via multitude of social networks such as Twitter, Facebook, Google Plus, StumbleUpon, Pinterest and others. But when is the best time for doing that?
Social marketing eats up your time and resources so it would be a good idea to learn when exactly to do that,.. and when not.
This week I'm presenting the entire Science of Social Timing infographics series from those cool and clever people from KISSmetrics. This is a long post and these infographics are quite big, so please give them some time to load; it will be worth your while I promise. (All data is in Eastern Standard Time (EST). Click the images for a bigger view if you need to.)
Timing Your Social Marketing On Twitter And Facebook Is Crucial
This first infographic is about using Twitter and Facebook at correct times for marketing purposes. It makes a huge difference when you upload your material on your Facebook Page or post your tweets on Twitter. If your audience is not present at the time of posting your material probably goes to waste.
For instance, my Twitter feed consists of about 10.000 people and the time one single tweet is visible on the main view is only about 90 seconds before it falls below the fold. This does not leave much time for your message to reach your audience. You should make sure there are enough active people on the receiving end for your message make an impact.

TIMING TIPS: If you are targeting people in the United States your best bet is using the Central and Eastern time zones as they cover 81% of the US population.
The best days to post your tweets are Wednesday, Saturday and Sunday. The best times are at noon and in the afternoon 5-6pm.
Regading Facebook your best day is Saturday and the best times are middle of the day and early evening at about 7pm.
Timing Makes Or Breaks Your Email Marketing Campaigns
Some might not agree that Email marketing is part of Social Sharing or Social Marketing, but regardless of the view it is still a very powerful tool for your business.
TIMING TIPS: Don't send your Email campaigns between 10 pm and 6 am. It is considered a Dead Zone and most of your material goes unnoticed. The best times are usually in the morning and after lunch.
Open rates and click rates are highest during the weekend.
What Is The Best Time To Publish Your Blog Posts?
When it comes to blogging timing is an important factor to the success of your articles. You should publish your posts at the time when most of your readers are active on the Internet.
TIMING TIPS: The best day to publish your blog posts is Monday. You should post them in the morning as usually articles get the most views and comments between 9 am and 11 am. If you are a comment junkie Saturday is the best day for getting comments on an average blog.
When Is The Internet Awake?
Do you think it would be useful to publish your material during the hours when most of your audience is awake and active? Of course it would be.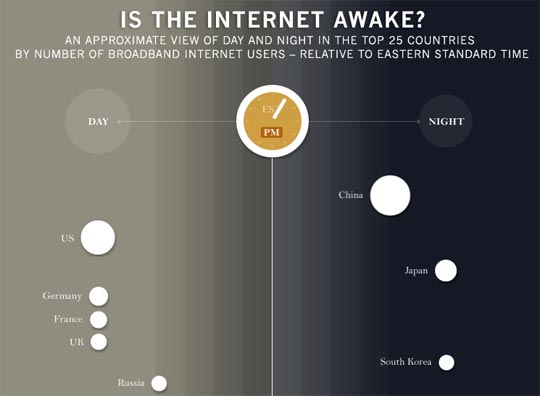 I came across this awesome visualization by New York based Art Director Bård Edlund about the times when Internet is either awake or asleep. You can use it to locate the time zones when most of your audience is alive and kickin'. See the wonderful live chart here.
TIMING TIPS: If you know where your audience lives try to publish your material at the time when most of them are awake. That's fairly obvious isn't it, but it is often over looked. If you are using Google analytics you can see this data under Audience > Demographics > Location.
Most of my blog readers live in the US, Canada and UK, so I usually publish my posts at 11 pm Australian Eastern Standard Time (AEST) which is 9 am EST in the US. Mostly I do it on a Thursday but I should actually try to change it to Monday as Mondays give you the most traffic.
Let us know if you are using timing as a strategic weapon in your Social Marketing. If you have timing tips of your own, please share below.
[Clock tower image: FreePhotos.com Infographics: KISSmetrics]